For Healthy Skin and Hair
Regular price
₹‌ 1,685.00
Sale price
₹‌ 895.00
Unit price
per
Sale
Sold out
SIZE
75ML
₹‌ 1,685
₹‌ 895
Free shipping. Delivered in 3 days.
A wholesome package with goodness of Essentia Extracts' Lavender, Tea tree, Bergamot, Eucalyptus and Lemongrass essential oils. Essentia Extracts' Lavender oil is a calming essential oil that promotes a sense of harmony and well-being, known for its impeccable aroma and myriad benefits for beauty and wellness. Essentia Extracts' Tea Tree oil is a multipurpose essential oil that aids healthy skin, well known for its beauty applications and is great for quick application to help reduce blemishes. Essentia Extracts' pure eucalyptus oil is steam-distilled from trees grown on the verdant slopes of the Nilgiri hills in Southern India with its anti-inflammatory properties strengthen immunity, correct muscular aches, and rejuvenate the body. The woody and sweet fragrance dispels sadness, revives the mind, and promotes a sense of positivity. Essentia Extracts' Bergamot oil is a fresh and fruity essential oil that dissipates anxiety and stress to create a feeling of freshness, joy, and energy. This light citrus essential oil has a range of benefits for skin, body, and general well-being. It balances oily, acne-prone skin, minimizes the look of scars and marks on the skin. Essentia Extracts' lemongrass oil is a light and fresh lemony essential oil that uplifts, exhilarates, and deodorizes naturally.
Read More
Read Less
Benefits

RELAXING SLEEP & HEADACHE RELIEF: Add it on your pillow for a restful sleep. For headache relief, dilute a few drops with a carrier oil (coconut, almond oil etc.) and apply across the temples and forehead or inhale.
HAIR GROWTH & ANTI-DANDRUFF: Mix it with Essentia's Walnut oil to massage your hair and scalp.
FACE CARE & PIMPLES: Mix it with Essentia's almond oil and use as a moisturizer to reduce red, inflamed pimples & acne.
100% NATURAL & PURE: Manufactured in a certified organic facility, it has been extracted without the use of any chemicals.
HOME INSECT REPELLENT: Mix 10-20 drops into water in a spray bottle for spraying at home.
STRESS-BUSTING AROMATHERAPY: Add 5-10 drops per 200ml water in a diffuser for refreshing mood.
LICE, BEARD & HAIR HEALTH: Mix with a few drops of Essentia's almond oil and gently massage onto scalp or beard. Anti-fungal properties keep scalp healthy and insecticidal properties get rid of hair lice.
COLD, COUGH & SORE THROAT: For cold relief, add 10 drops of Eucalyptus oil in hot water and inhale. To soothe cough and sore throat, mix 5 drops in a tbsp of carrier oil and rub on chest and throat.
How to use

Essentia's Pure Oils may be used for aromatherapy, blended with a carrier oil to make massage oil or used as bath oil. Use a drop of essential oil per tablespoon of Essentia carrier oil of your choice for best results.
Daytime Use

Nighttime Use

Recyclable
View full details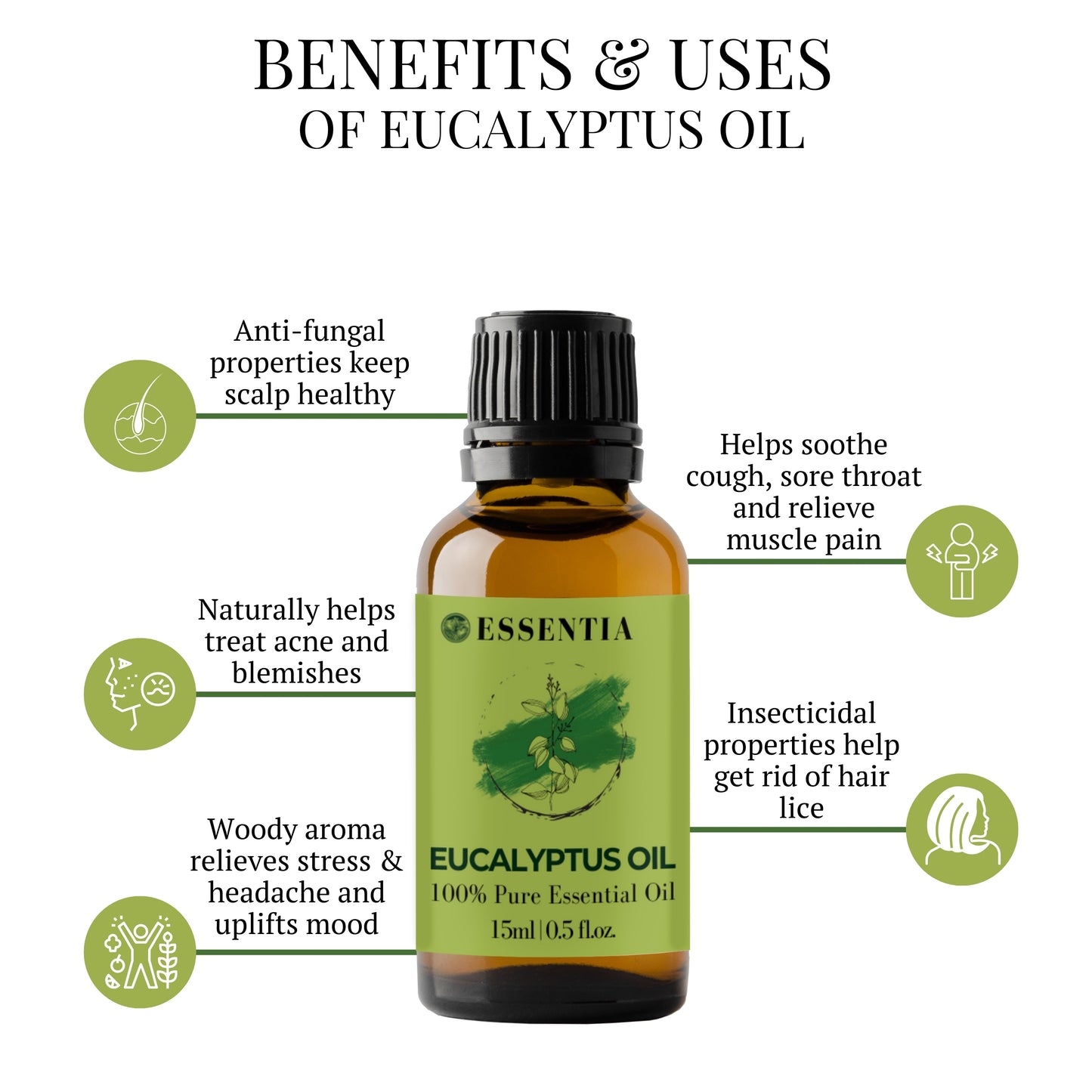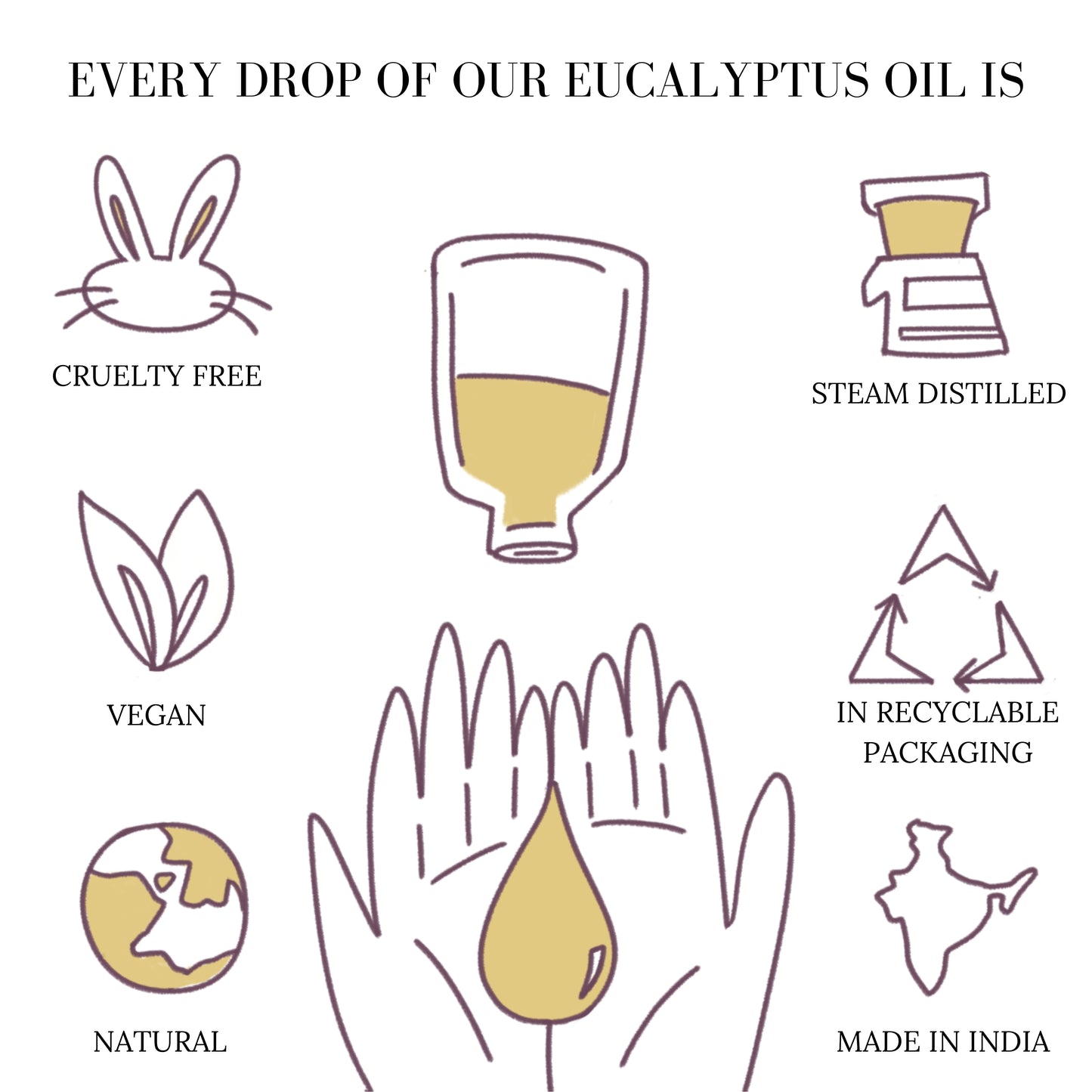 KEY INGREDIENTS
---
What's inside that really matters
100% pure lavender oil
---
It reduces acne and wrinkles, helps lighten skin. It is rich in antioxidants which help protect skin from the free radicals that cause fine lines.

100% pure tea tree oil
---
It reduces the signs of aging and the appearance of age spots caused by many environmental factors

100% pure bergamot oil
---
It effective in treating acne and other skin infections

100% pure eucalyptus oil
---
It can help exfoliate the skin by removing dead skin cells and unclogging pores, making it a popular ingredient in skin care products designed to treat acne and other skin conditions

100% pure lemongrass oil
---
Remove impurities and detoxifies the skin

only good choices. no compromises.
Vegan
Gluten and Allergen Free
No Artificial Colour or Flavour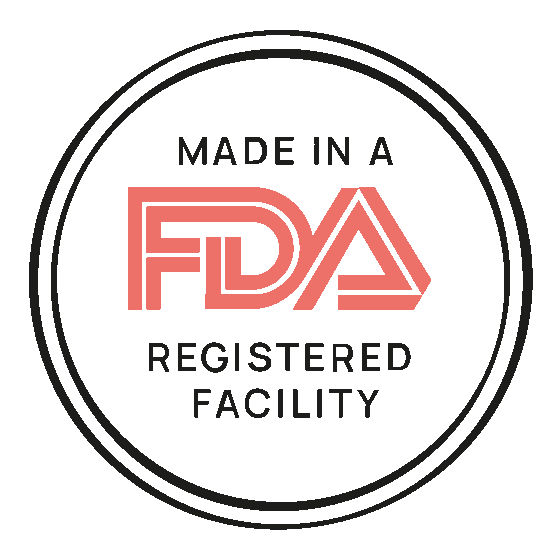 Made in a FDA Registered Facility
Clinically Researched Ingredients
No Fine Print

We Heart Reviews
It tells us how you're doing and that's always good to hear!