For Relief from Toothache and Chest Congestion
Regular price
₹‌ 650.00
Sale price
₹‌ 325.00
Unit price
per
Sale
Sold out
SIZE

30ML
₹‌ 650
₹‌ 325
Free shipping. Delivered in 3 days.
A wholesome combo of Essentia Extracts' Eucalyptus and Clove Essential Oil. Essentia Extracts' pure eucalyptus oil is steam-distilled from trees grown on the verdant slopes of the Nilgiri hills in Southern India with its anti-inflammatory properties strengthen immunity, correct muscular aches, and rejuvenate the body. The woody and sweet fragrance dispels sadness, revives the mind, and promotes a sense of positivity. Essentia Extracts' Clove essential oil is a stimulating and energizing oil that produces a warm, woody aroma. It's known for its ability to cleanse teeth and gums. When diffused for aromatherapy it creates an uplifting ambiance to any home or workplace. It also purifies the air by eliminating germs and impurities in the air.
Read More
Read Less
Benefits

LICE, BEARD & HAIR HEALTH: Mix with a few drops of Essentia's almond oil and gently massage onto scalp or beard. Anti-fungal properties keep scalp healthy and insecticidal properties get rid of hair lice.
TOOTHACHE & BAD BREATH: Aapply a cotton swab dipped in 1-2 drops of clove oil. Or add 1 drop to your toothpaste every day. Add 2 drops of clove oil + 1 drop of peppermint oil in a tbsp of water and use as a mouthwash.
ACNE & BLEMISHES: Naturally treat acne and blemishes my mixing 1 drop of this anti-bacterial oil with a little water or moisturizer.
MUSCLE PAIN & AROMATHERAPY: To relieve muscle pain, mix 5 drops with 1-2 tsp of a carrier oil for a relaxing massage. The woody aroma will relieve stress & headache and uplift your mood. Add 5-10 drops per 200ml water in a room diffuser.
COLD, COUGH & SORE THROAT: For cold relief, add 10 drops of Eucalyptus oil in hot water and inhale. To soothe cough and sore throat, mix 5 drops in a tbsp of carrier oil and rub on chest and throat.
100% NATURAL & PURE: Manufactured in a certified organic facility, it has been extracted without the use of any chemicals.
How to use

Essentia's Pure Eucalyptus & Clove Oil may be used for aromatherapy, blended with a carrier oil to make massage oil or used as bath oil. Use a drop of essential oil per tablespoon of Essentia carrier oil of your choice for best results.
Daytime Use

Nighttime Use

Recyclable
View full details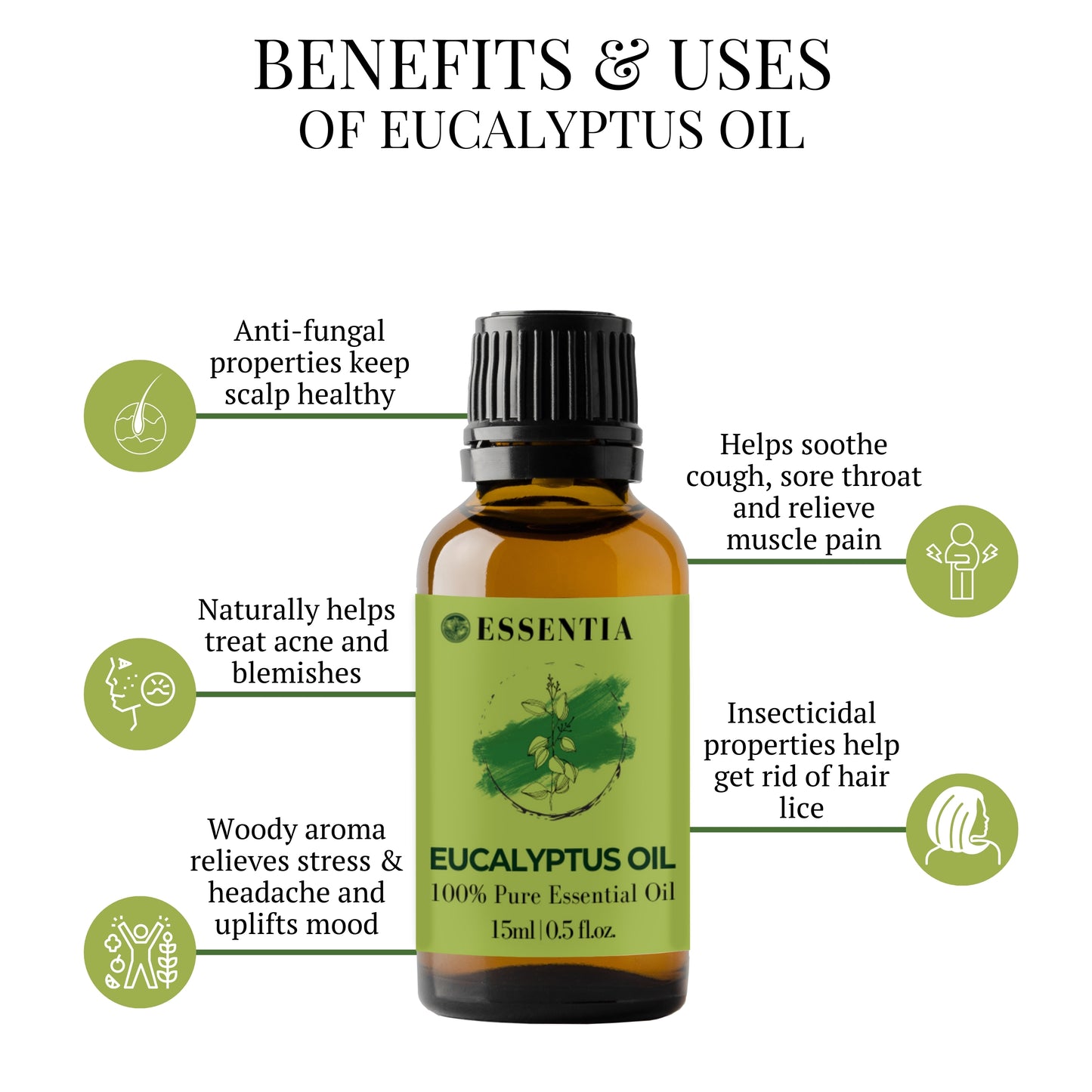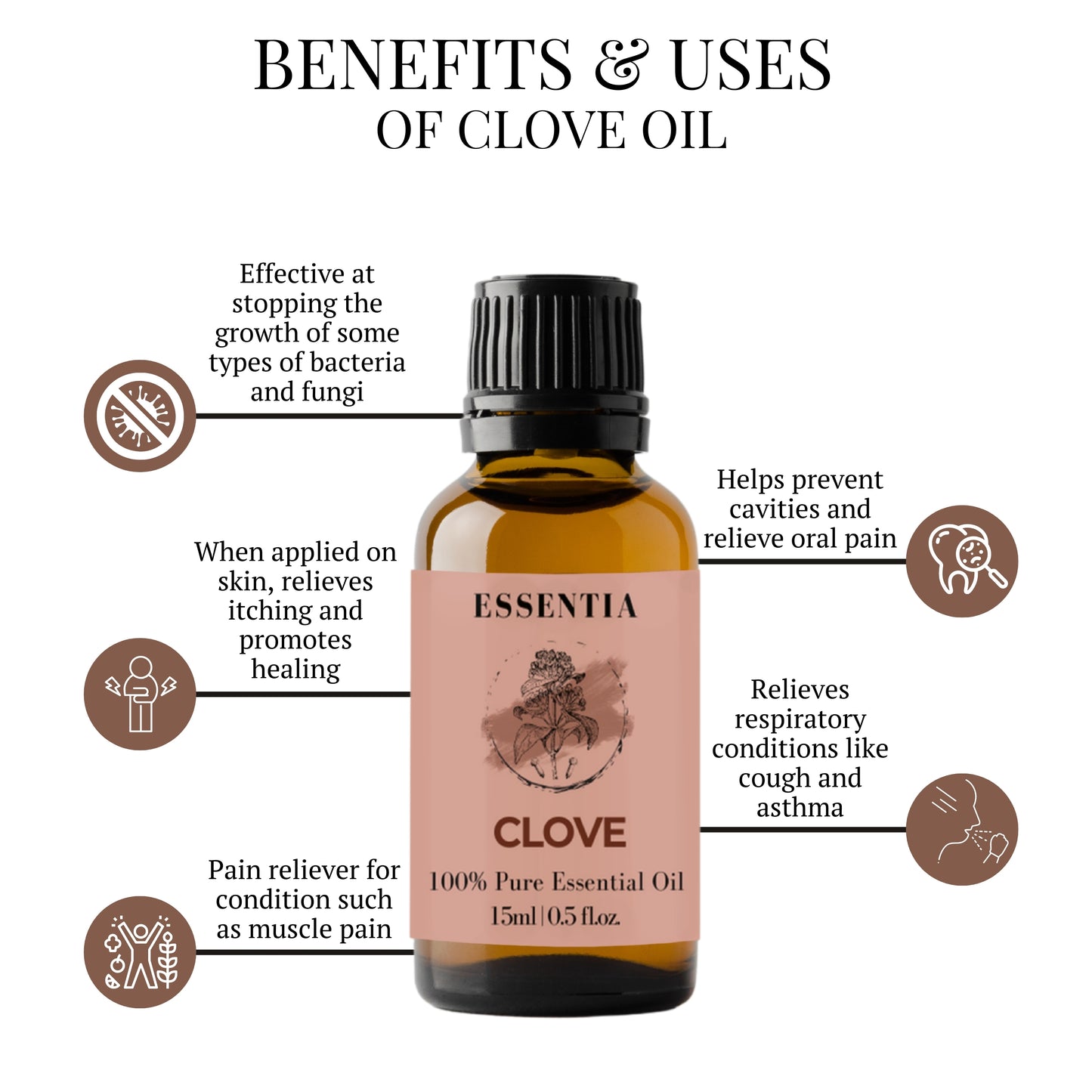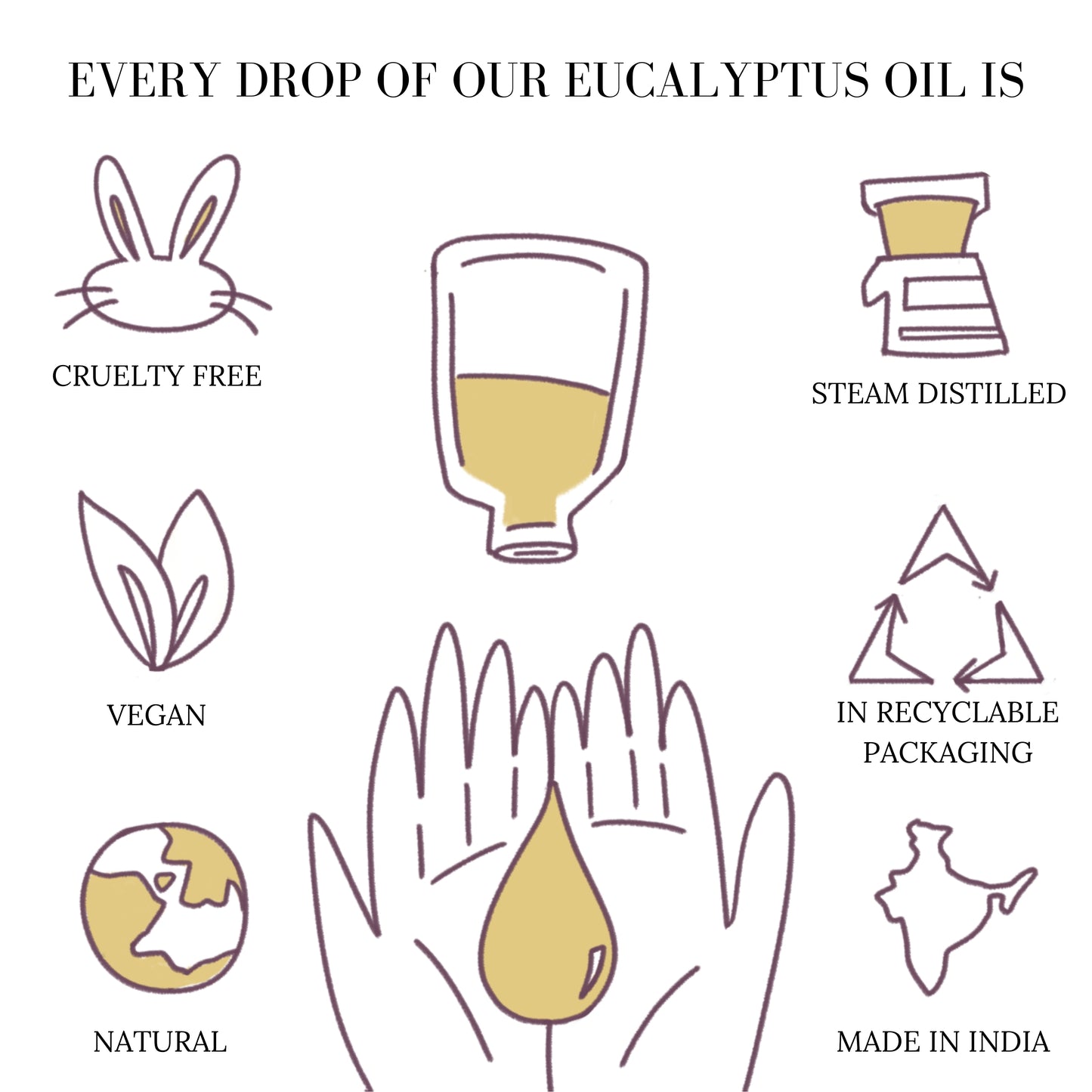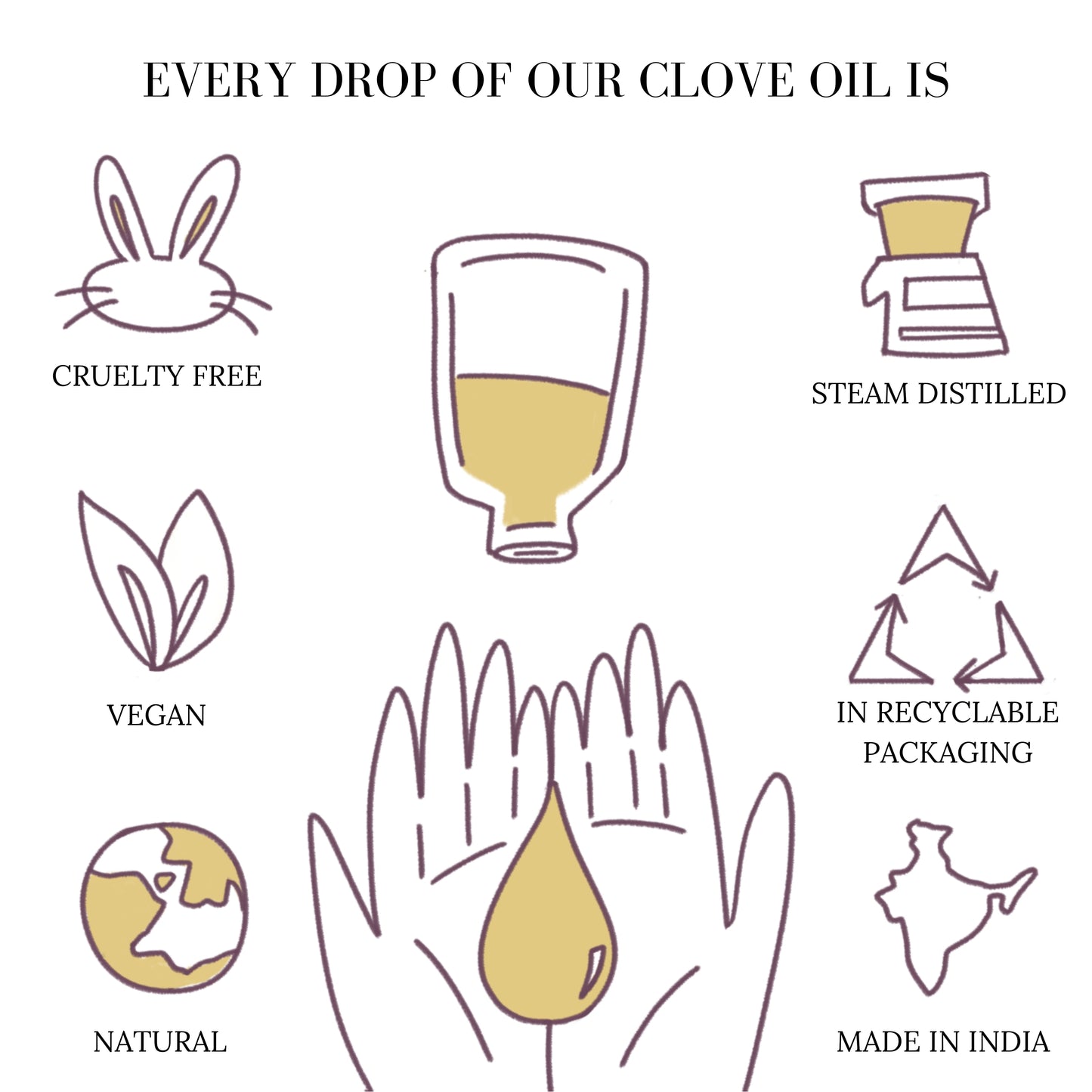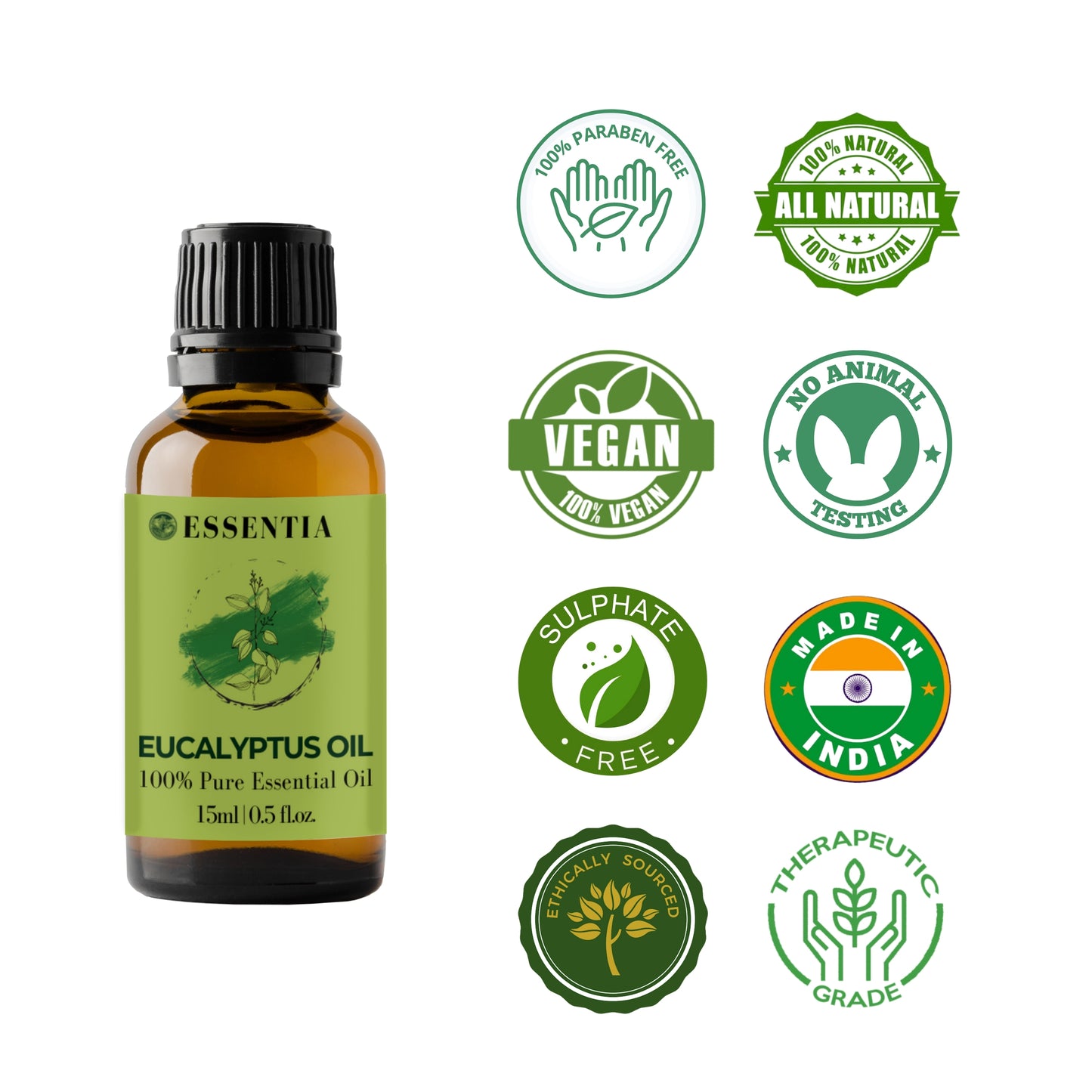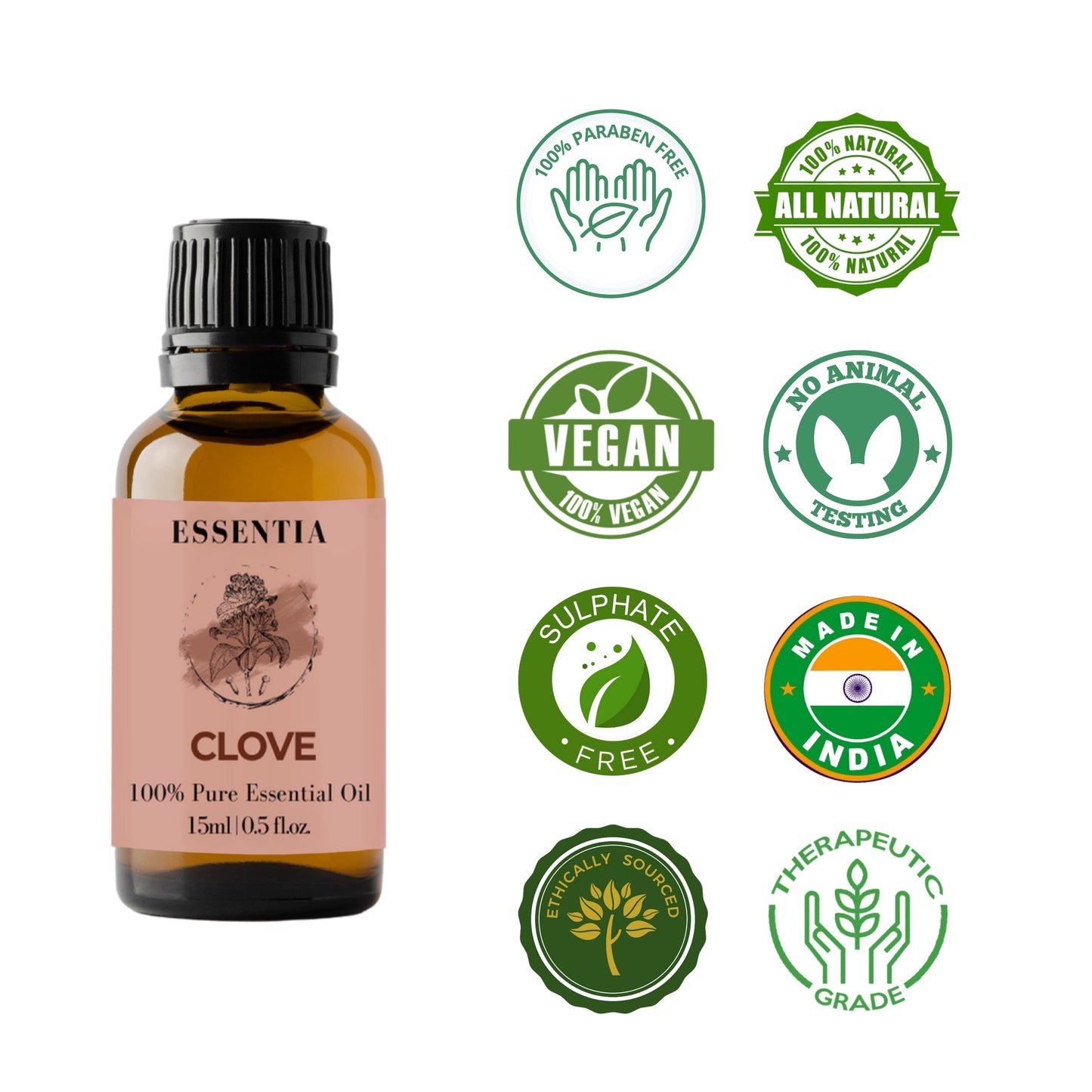 KEY INGREDIENTS
---
What's inside that really matters
100% pure eucalyptus oil
---
It can help exfoliate the skin by removing dead skin cells and unclogging pores, making it a popular ingredient in skin care products designed to treat acne and other skin conditions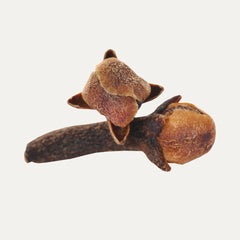 100% pure clove oil
---
It has a numbing effect and can be used as a natural pain reliever. It is often used to relieve toothache pain

only good choices. no compromises.
Vegan
Gluten and Allergen Free
No Artificial Colour or Flavour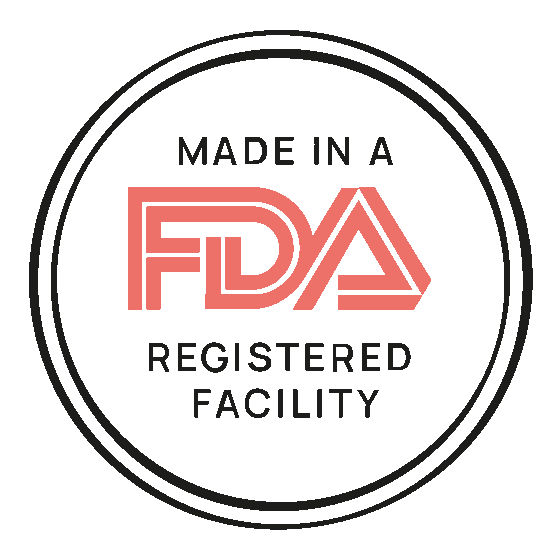 Made in a FDA Registered Facility
Clinically Researched Ingredients
No Fine Print

We Heart Reviews
It tells us how you're doing and that's always good to hear!