For Clear and Glowing Skin
Regular price
₹‌ 690.00
Sale price
₹‌ 345.00
Unit price
per
Sale
Sold out
SIZE

200GM
₹‌ 690
₹‌ 345
Free shipping. Delivered in 3 days.
Give your skin the gift of Essentia Extracts Coconut Coffee Body Scrub – a scrub crafted from the mix of best Robusta & Arabica Coffee and Coconut powder & Cold Pressed Coconut Oil. The scrub exfoliates dead skin cells and helps get rid of blackheads, tan, and impurities. It polishes the skin and deep cleanses your pores so that your skin is smooth, glowing, and breathes free. Essentia Extracts Coconut Turmeric Face & Body Scrub uses raw Coconut powder to exfoliate the skin, leaving it smooth & buffed with a luminous finish. It contains pure cold-pressed oil extracted from handpicked nutritious coconuts, which improve skin elasticity, while the fresh organic Turmeric adds glow and a delicate fragrance to the skin.
Read More
Read Less
Benefits

GENTLY EXFOLIATES SKIN, GIVES FRESH GLOW: Gentle exfoliation for the face & body that becomes dull, and rough due to dead skin cells, blackheads, impurities gives clear and glowing skin, increases collagen production for a youthful skin and helps reduce cellulite.
MADE FROM HANDPICKED NATURAL INGREDIENTS WITH CARE: FDA Approved | SLS Free | Clinically Tested | Cruelty-Free | Paraben Free | For Normal to Oily Skin | For Men & Women
How to use

STEP 1: Take three spoonfuls of Scrub powder to prepare a body & face scrub STEP 2: Gently mix the powder with double quantity water or milk STEP 3: The scrub should be of a paste consistency STEP 4: Exfoliate your skin with scrub in circular movements. Wash thoroughly while taking a shower & do not use soap Use at least twice a week for best results.
Daytime Use

Nighttime Use

Recyclable
View full details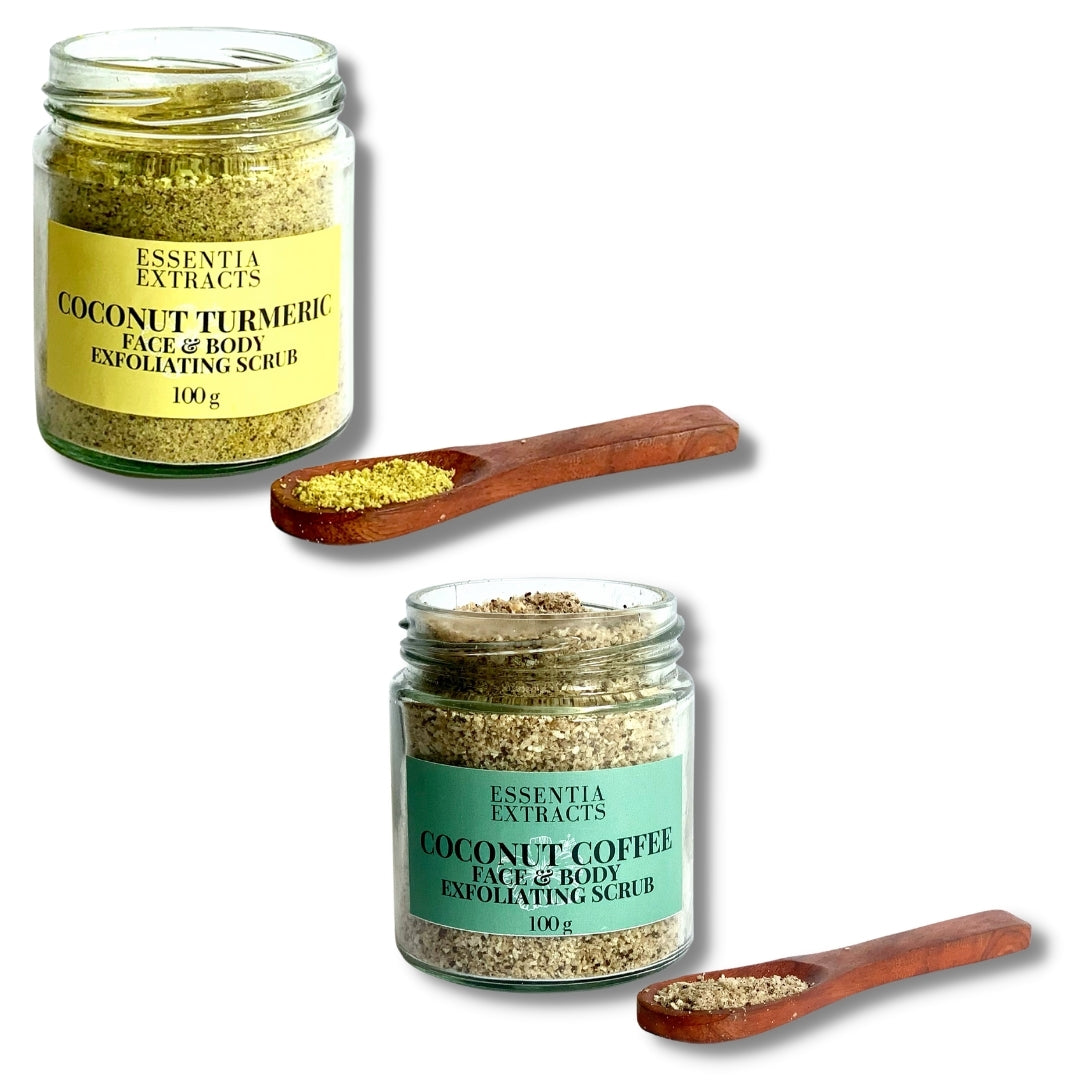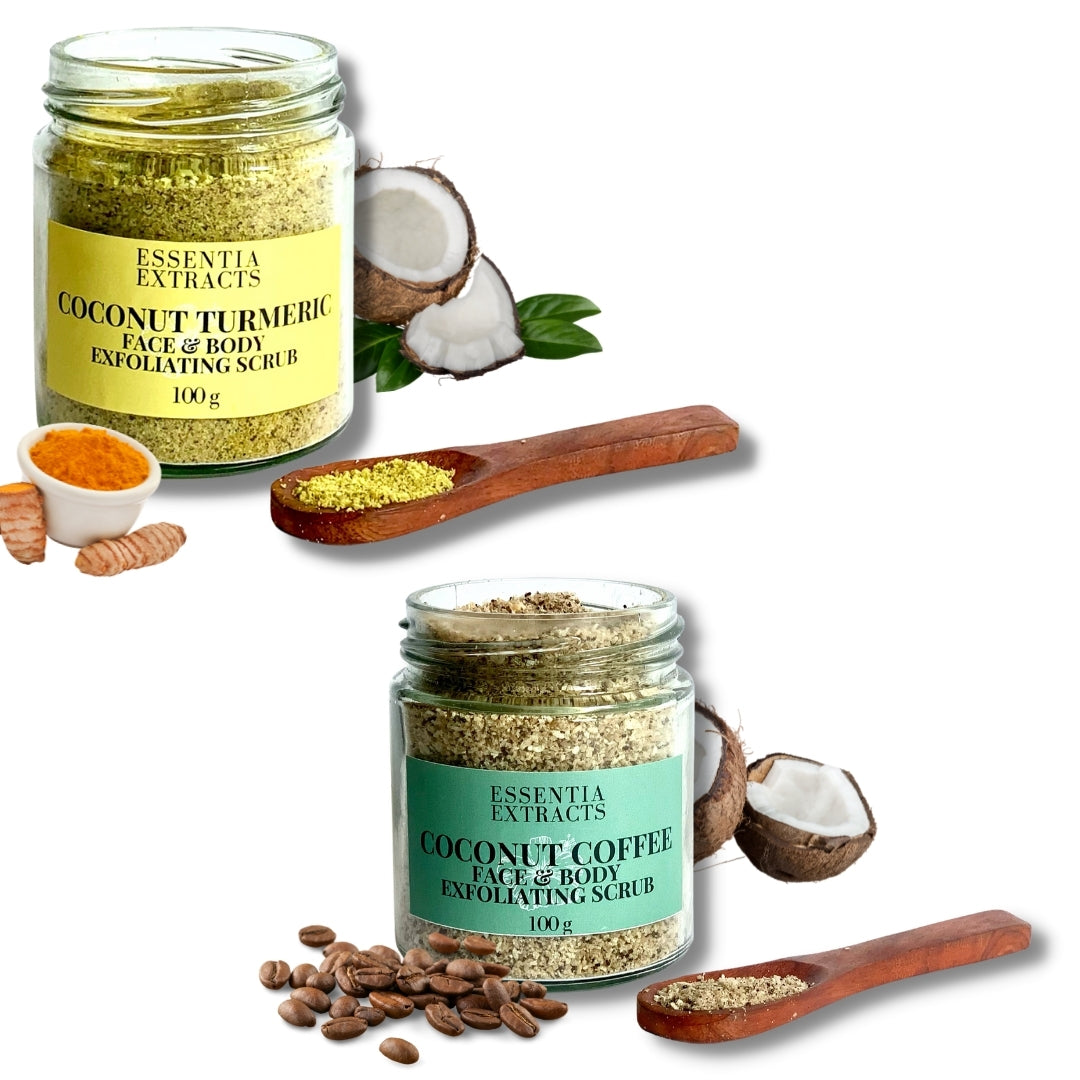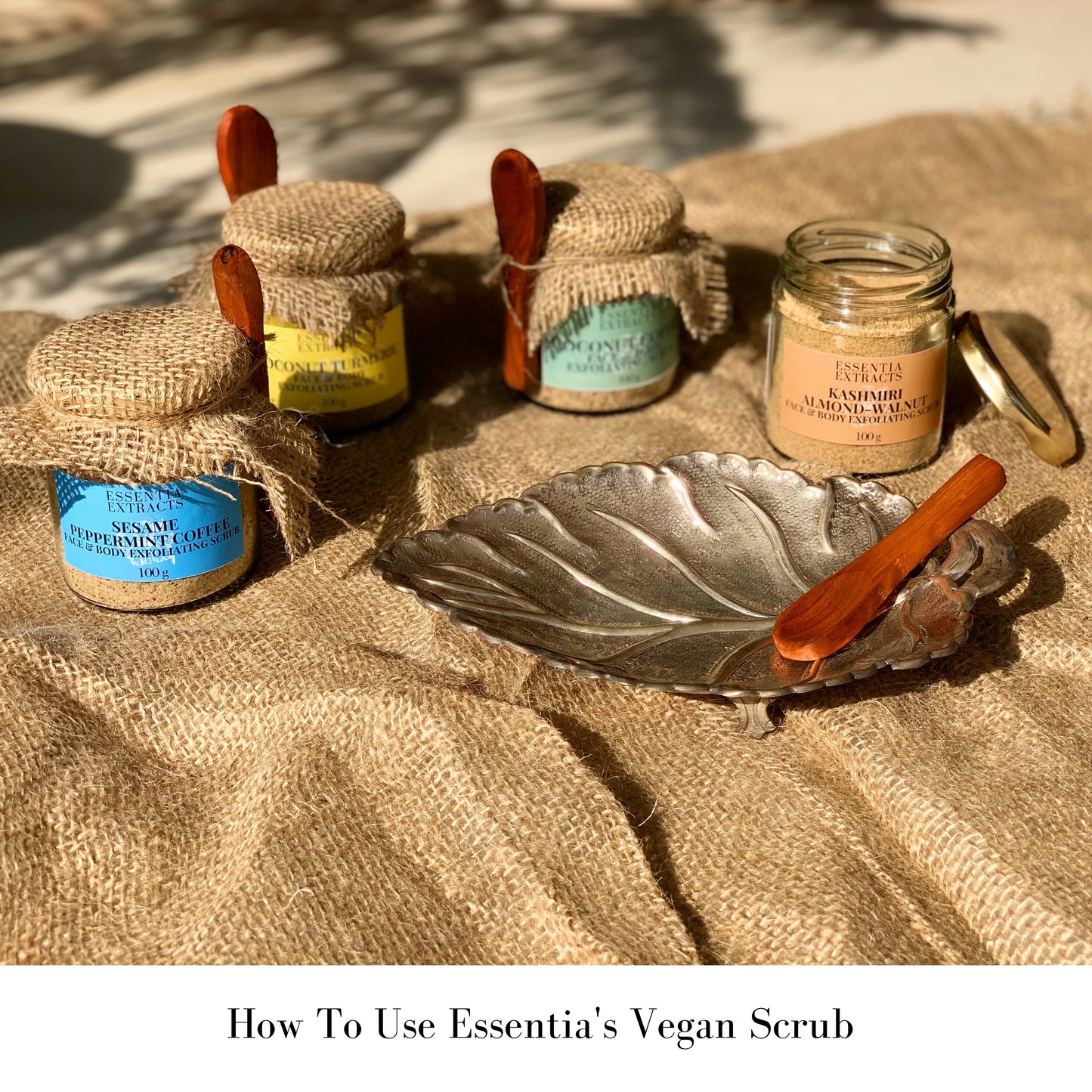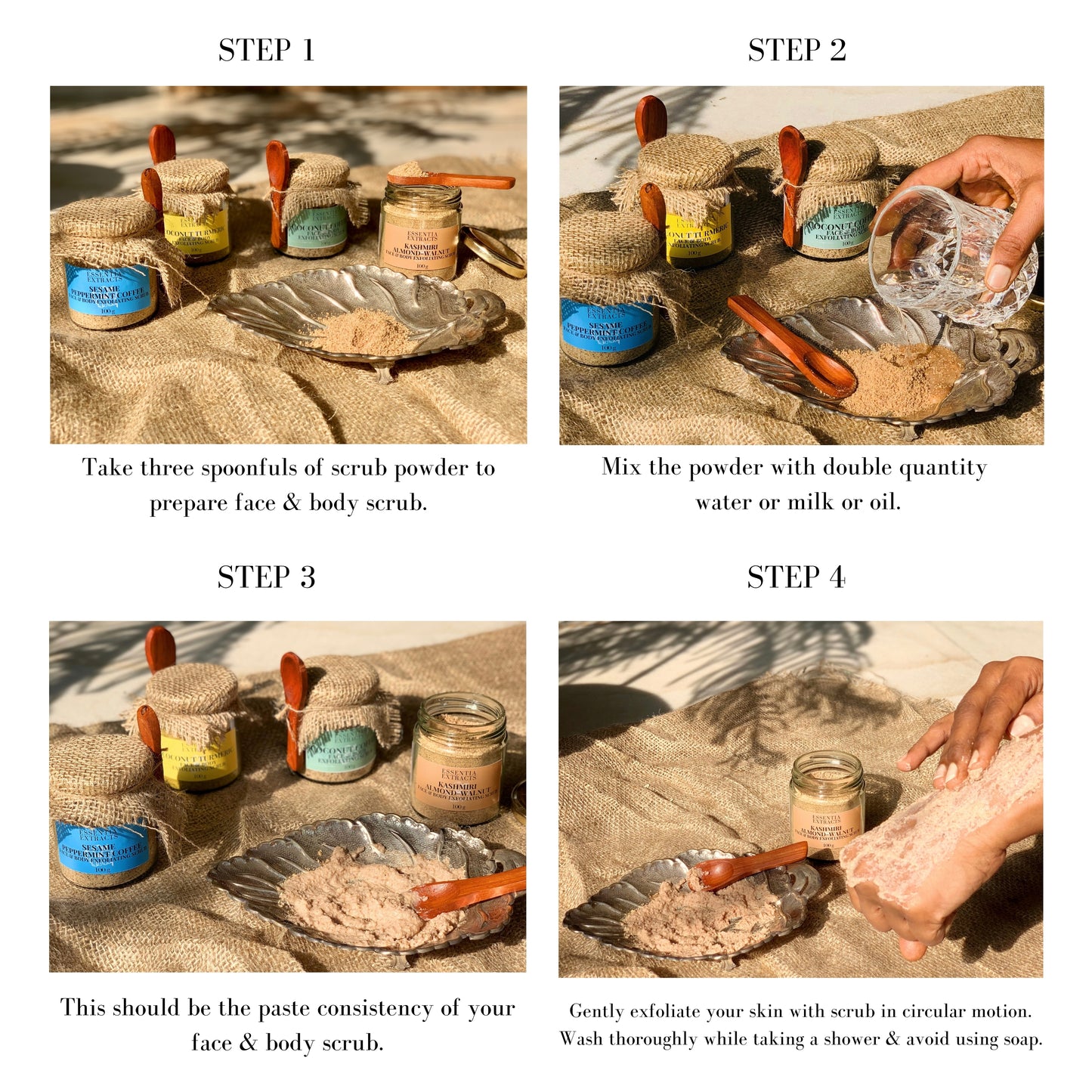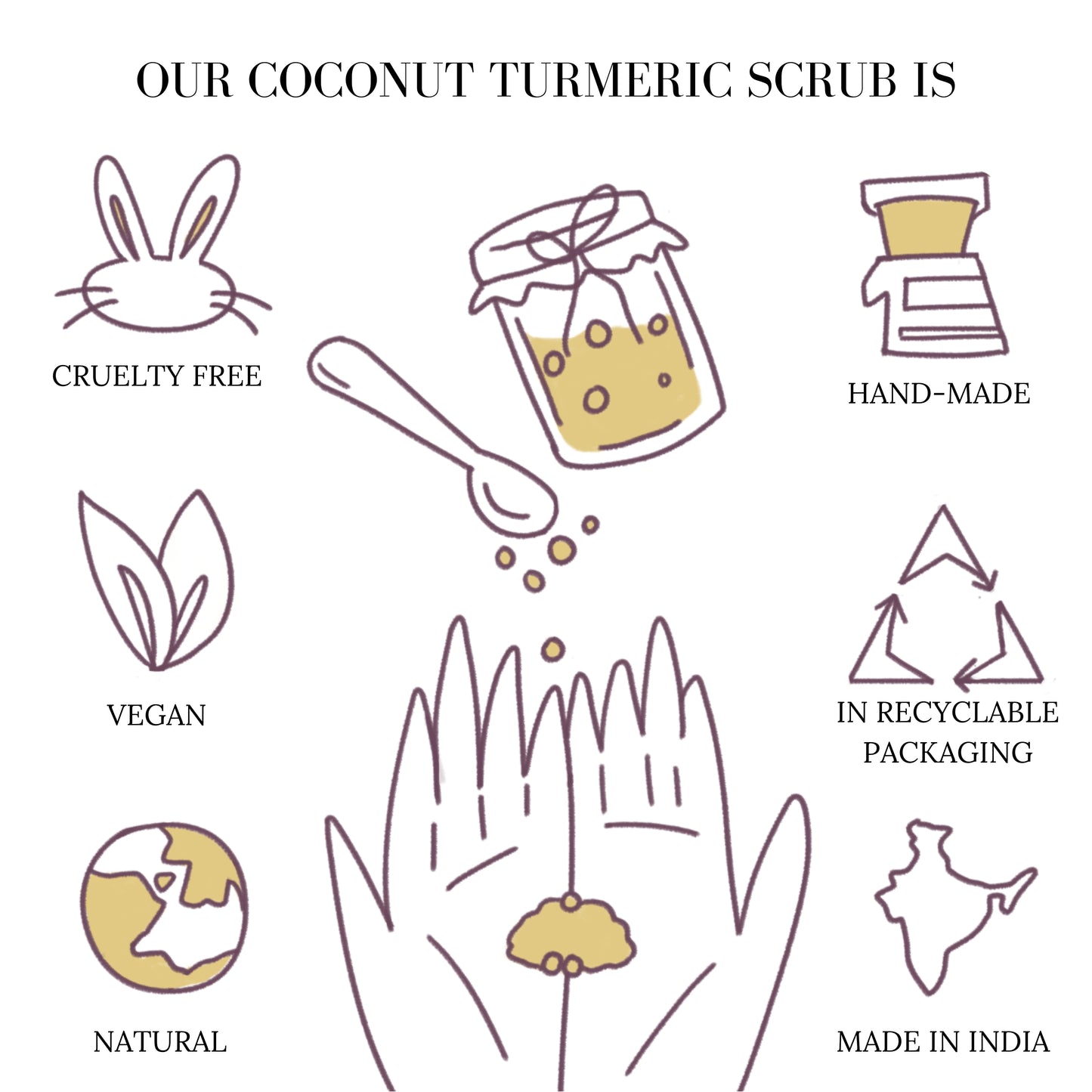 KEY INGREDIENTS
---
What's inside that really matters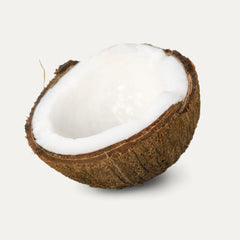 Coconut Seed Powder
---
It removes dead skin cells helping the skin to rejuvenate and improve blood circulation. It plumps and tightens the skin by reducing cellulite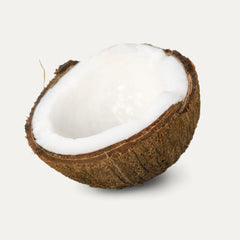 Coconut Oil
---
It lightens the areas under the eyes and even helps in reducing the spots caused by hyperpigmentation

Coffee
---
Gently buffs and polishes away dirt and dead skin cells revealing a brighter and fresher complexion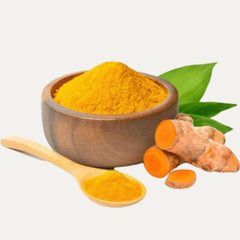 Turmeric Powder
---
It reduces redness, hyperpigmentation and treats acne

only good choices. no compromises.
Vegan
Gluten and Allergen Free
No Artificial Colour or Flavour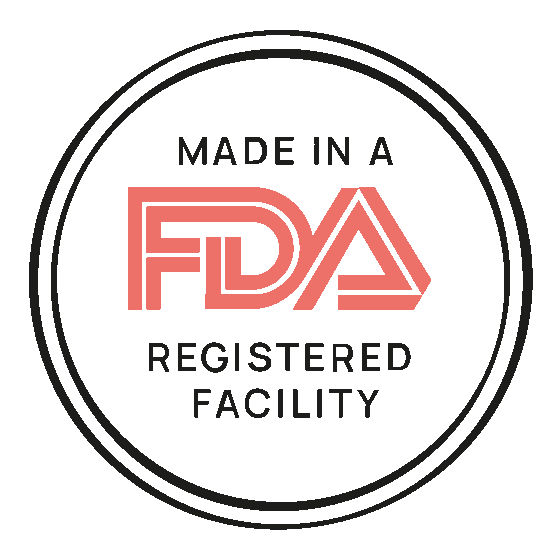 Made in a FDA Registered Facility
Clinically Researched Ingredients
No Fine Print

We Heart Reviews
It tells us how you're doing and that's always good to hear!