For Radiant and Glowing Skin
Regular price
₹‌ 445.00
Sale price
₹‌ 235.00
Unit price
per
Sale
Sold out
SIZE

15ML
₹‌ 445
₹‌ 235

30ML
₹‌ 890
₹‌ 445
Free shipping. Delivered in 3 days.
Essentia Extracts 24K Gold Facial Serum has been formulated with supremely effective ingredients enriched with Vitamin C & E and boost collagen with Collagen.The presence of Almond Oil, Rosehip Oil & Pumpkin seed Oil makes your skin healthy while making it look brightened and illuminated. It is made from all-natural ingredients to safely and effectively boost your skin's overall glow. This comprehensive serum works on the surface and deep into the skin to promote youthful complexion. Our serum is designed to revitalize aging skin, while providing all the key nutrients needed to refresh and restore skin back it's beautiful, youthful appearance.
Read More
Read Less
Benefits

SUN PROTECTION: The mighty antioxidants naturally help to strengthen your skin, fight free radicals, and resist unwanted damages from daily environmental aggressors.
EXFOLIATE AND BRIGHTEN SKIN: The lightweight, non-greasy, non-sticky, refreshing serum helps in skin lightening, hydration, and improves skin firmness. Vitamin Extracts & Rosehip Oil delays aging, protects and increases collagen production, and imparts deep nourishment to the skin with a non-sticky after-feel.
ANTI-AGING SERUM FOR WRINKLE FREE SKIN: Boosts collagen production to give you firmer, plump skin, and smooths out fine lines and wrinkles. The serum can help reduce premature aging by protecting the skin from the untimely skin wrinkles that sun exposure can cause, giving your skin a dewy glow.
How to use

Take 2-3 drops and massage over your face as a moisturizer after cleansing.

Apply in the morning (AM) & evening (PM) to restore natural suppleness of skin.
Daytime Use

Nighttime Use

Recyclable
View full details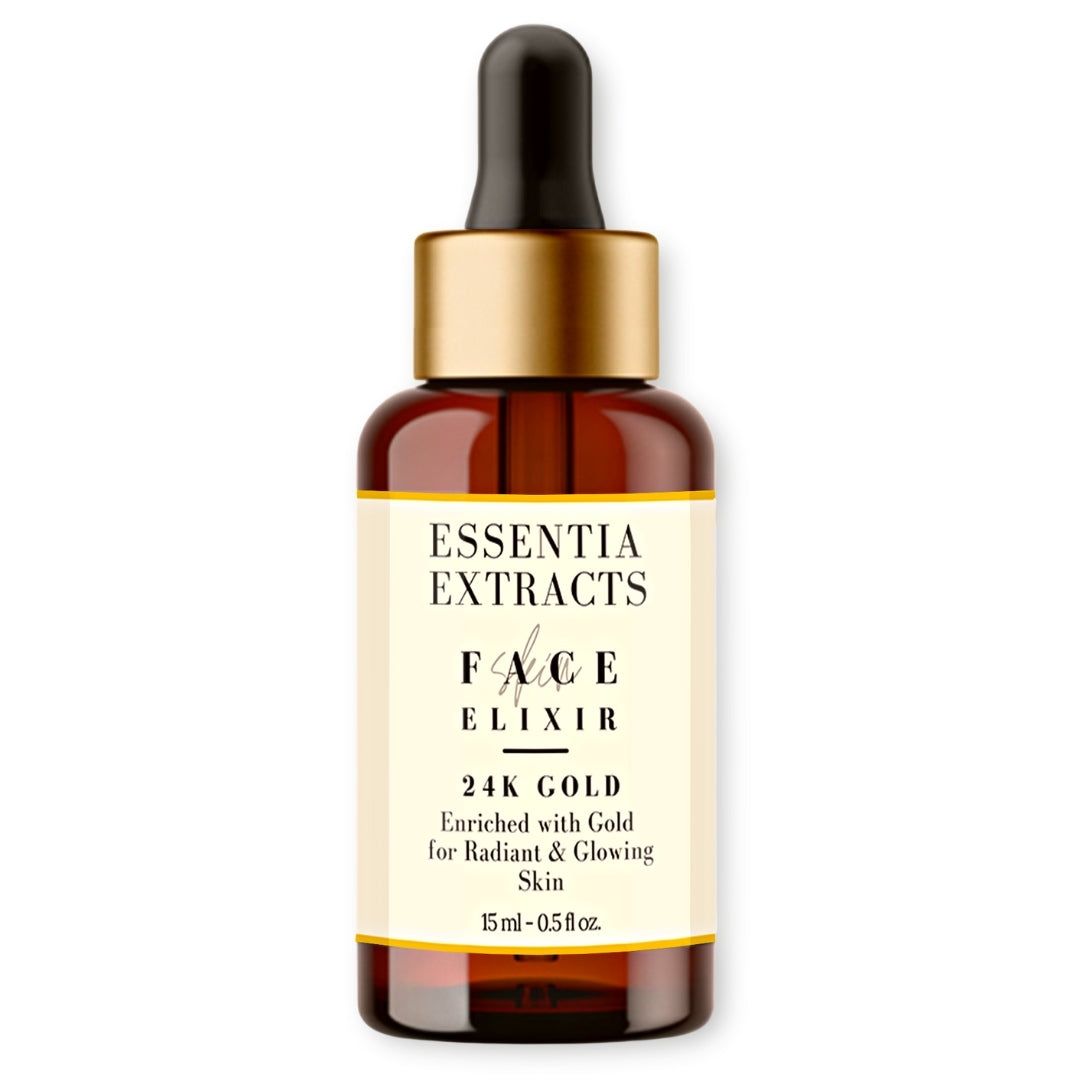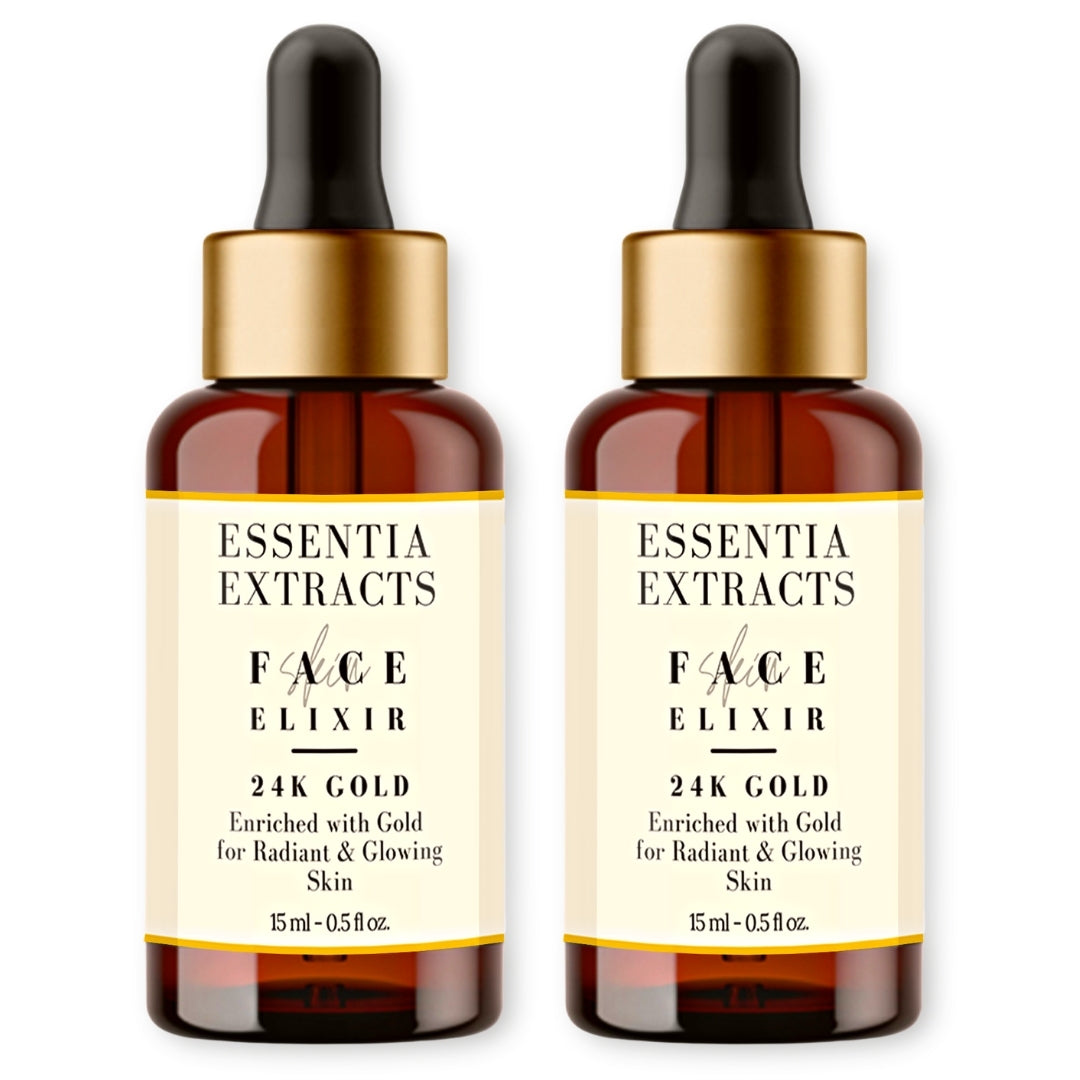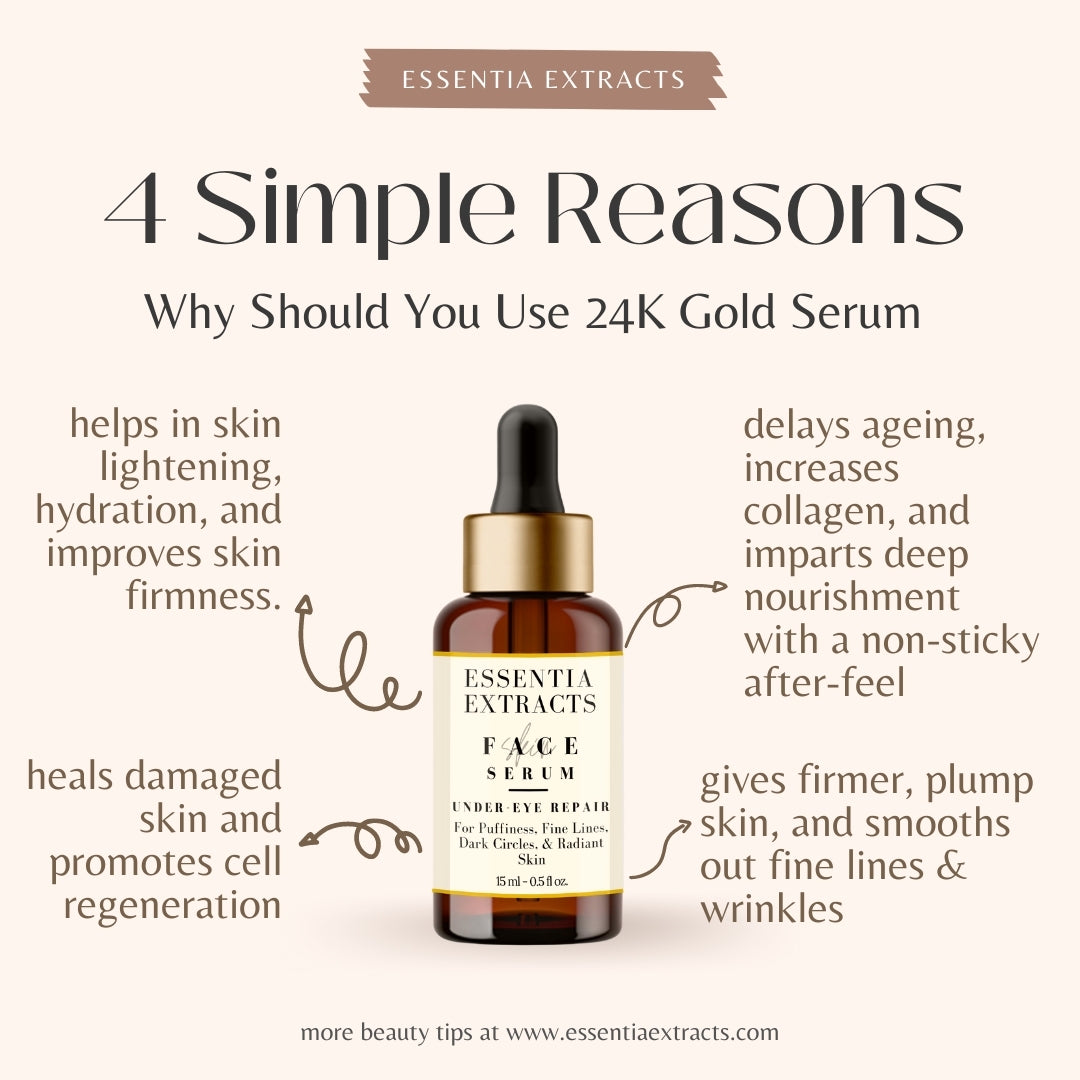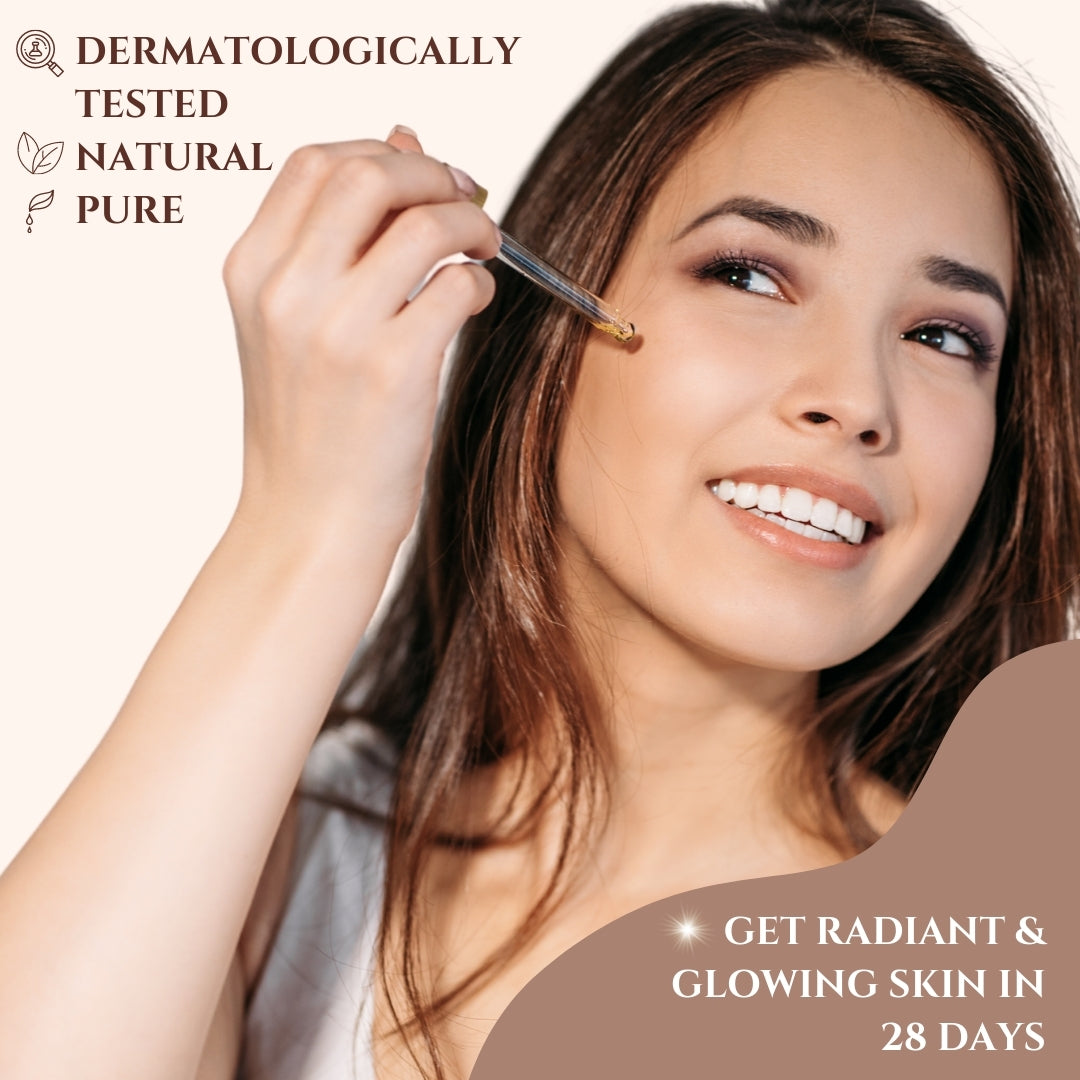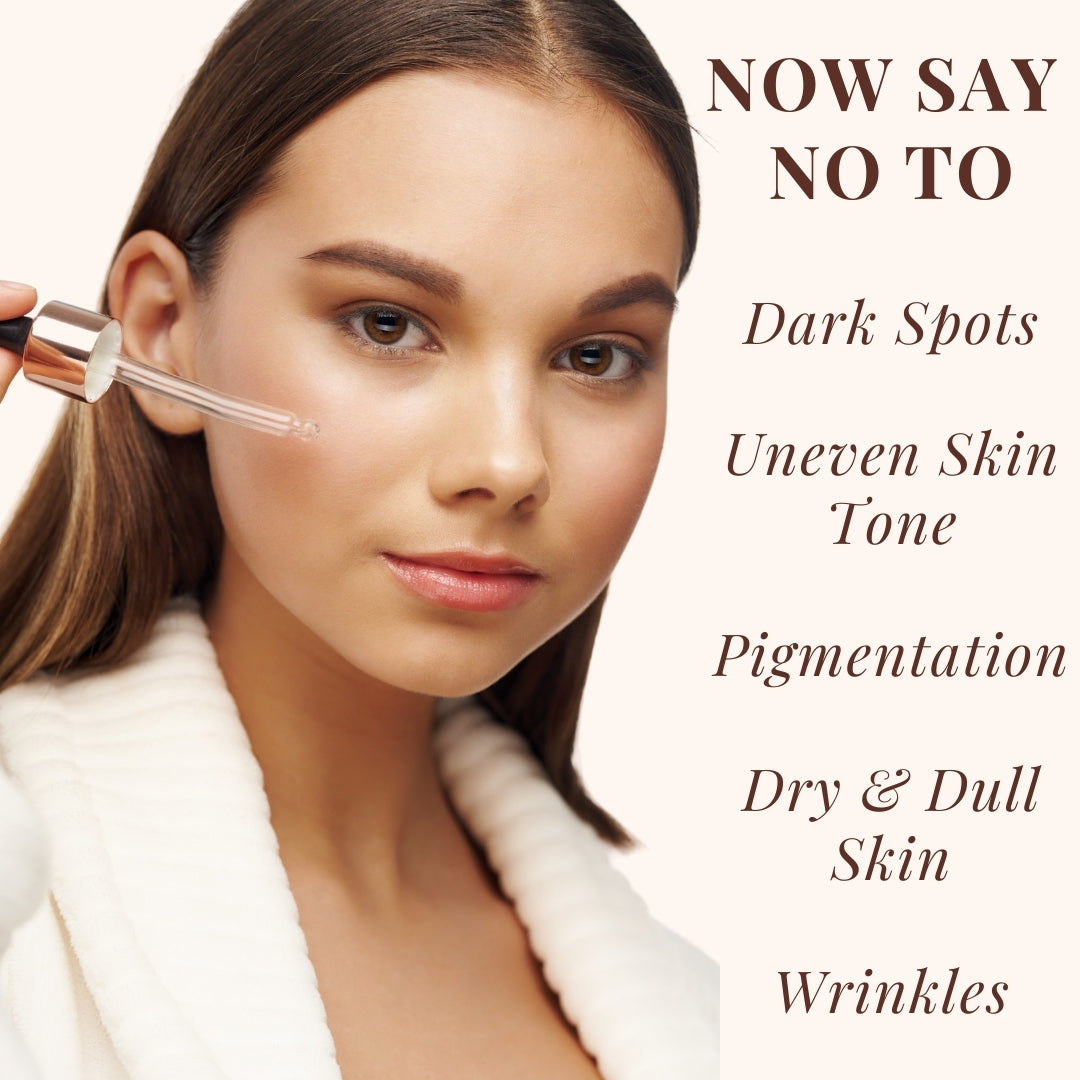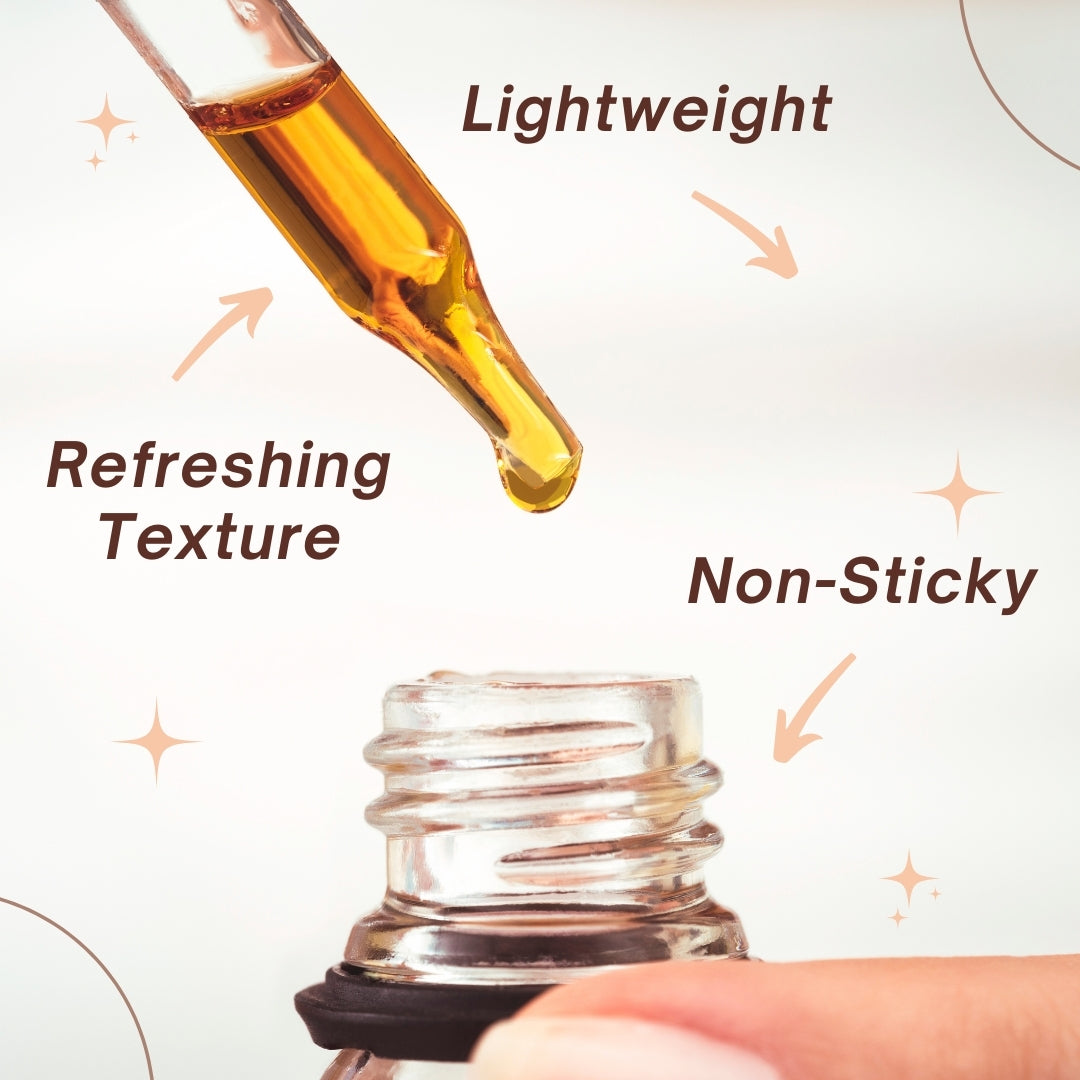 KEY INGREDIENTS
---
What's inside that really matters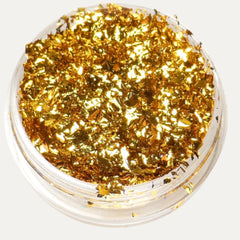 24K Gold Flakes
---
Restores dull skin's elasticity for firmer, youthful looking skin
Almond Oil
---
Rich in Vitamin E, it stimulates the production of new skin cells and smoothens fine lines
Pumpkin Seed Oil
---
Fades wrinkles and improves the texture of your skin
Rosehip Oil
---
Targets wrinkles and evens out skin tone
Lemongrass Oil
---
Remove impurities and detoxifies the skin
24K Gold Bhasma
---
Fight fine lines and wrinkles and leave your skin moisturized and glowing
Orange Oil
---
Boosts collagen production in skin
only good choices. no compromises.
Vegan
Gluten and Allergen Free
No Artificial Colour or Flavour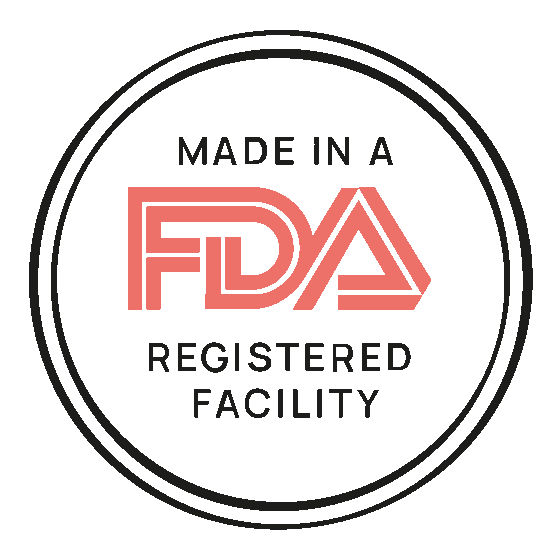 Made in a FDA Registered Facility
Clinically Researched Ingredients
No Fine Print

We Heart Reviews
It tells us how you're doing and that's always good to hear!
Related Products
Regular price

₹‌ 345.00

Sale price

₹‌ 245.00

Unit price

per

Regular price

₹‌ 345.00

Sale price

₹‌ 245.00

Unit price

per

Regular price

₹‌ 195.00

Sale price

₹‌ 194.00

Unit price

per